US Troops Who Refuse Mandatory COVID-19 Vaccines Might Face Court-Martial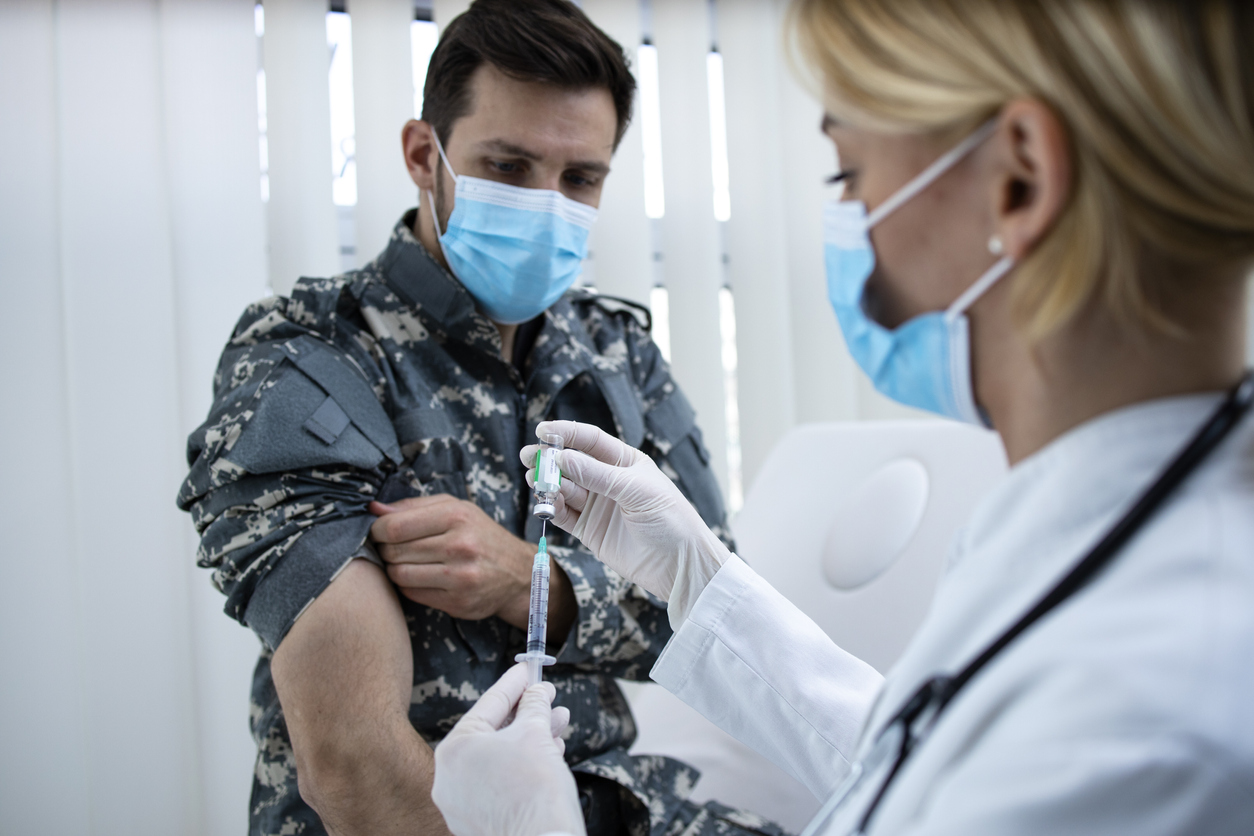 Many areas of the United States are experiencing a surge in COVID-19 cases. As a result, Defense Secretary Lloyd J. Austin, III announced he will seek a waiver requiring all military service members to be vaccinated against the coronavirus. The waiver request is anticipated by mid-September.
President Biden replied quickly. He strongly supports adding the COVID-19 vaccine to the list of required vaccinations for service members.
Food and Drug Administration will give final approval of various COVID-19 vaccines by the end of August or mid-September. Secretary Austin is expected to add the vaccine to the mandatory list immediately after that.
Could Service Members Be Punished for Refusing to Take the COVID-19 Vaccine?
Once the COVID-19 vaccine is added to the list of mandatory vaccines for service members, any service members refusing to take the vaccine could face a range of punishments.
Failing to obey an order can result in administrative and disciplinary actions. A service member could face administrative separation from the service or a court-martial. Commanders can use other tools, but the Uniform Code of Military Justice would be available to prosecute cases of willful failure to obey a direct order.
At this time, the military does not appear to have a policy for service members who refuse to take the COVID-19 vaccination. There are no existing directives that tell commanders how to respond to a service member's refusal to receive the vaccination. Therefore, any punishment would be at the commander's discretion at this time.
Commanders could take several actions to punish service members who refuse the vaccine, such as using nonjudicial punishment, using a letter of reprimand, or taking other administrative actions.
Are Commanders Likely to Court Martial Service Members for Failing to Take COVID-19 Vaccines?
Only time will tell. There is a lot of time and expense involved in proceeding with a court-martial. Therefore, commanders are likely to try to push reluctant service members to get the vaccine using other tools. However, commanders may have not choice but to refer cases for court-martial if they are given directives to do so.
Unfortunately, commanders may choose to make examples out of some service members. Therefore, we could see cases referred for court-martial for failing to take the COVID vaccine.
The same issues arose when service members were court-martialed for refusing to take the anthrax vaccination. However, COVID-19 has caused a global pandemic. We continue to have COVID-19 surges, especially with the delta variant.
Military leaders may decide to act strongly and swiftly because we are in the middle of a public health crisis. They may choose to push forward with imprisonment or court-martials to make a statement about how serious this matter is at the moment.
Will There Be Exceptions for Some Service Members?
Again, we have not seen the directives or policies yet regarding mandatory COVID-19 vaccines for military personnel. However, there could be several exemptions based on religious or medical reasons. These exemptions are likely to be narrowly defined to prevent large numbers of service members from using the exemptions to avoid the vaccine.
Requests for exemptions will be subject to intense scrutiny. The person may need to go through numerous steps, interviews, counseling, and medical examinations before being granted an exemption. In addition, in court-martial cases, the courts will look carefully at the legitimacy of the exemption when deciding cases.
You cannot make up a religion or religious belief. Likewise, you need strong medical evidence proving you have a health concern preventing you from taking the COVID-19 vaccine.
What Should Service Members Do if They Have Concerns About Taking the COVID-19 Vaccine?
We need a healthy military. Vaccinations can protect against some diseases and illnesses. If a pandemic takes out a large portion of our military at one time, our entire country could be vulnerable.
However, people have strong opinions about the COVID-19 vaccine. Until the FDA fully approves the vaccine, many people do not trust the vaccine. Even after the vaccine is approved, people may not trust the vaccine. After all, it was rushed to market, and there is no extensive research about the potential long-term side effects.
If you have questions about taking the COVID-19 vaccine, talk with your health care provider. Ensure that you have all information you need to make an informed decision about taking the vaccination.
Talk with a military attorney if you have questions about your legal rights. A military attorney can explain your legal rights. He can discuss various options for seeking exemptions. You can also discuss defenses against a court-martial or other punishment.